What a Web Form Autoresponder Can Do for You
The dawn of Internet business brought many changes. Perhaps the most important was the opportunity for website owners to make money around the clock, even while sleeping. One of the key tools that made this type of passive revenue possible is the autoresponder. Autoresponders are very useful and not just for online businesses.
In this article, we'll take a look at some common uses for web autoresponders and offer you some ideas about how you can use one to make your website more effective.
Common Uses for Web Form Auto Responders
Almost any web form can use an autoresponder. All that's needed is the e-mail address of the person visiting your site. Autoresponders can be customized to your specifications and automatically respond to the e-mail address entered in the form.
Over the years, website owners and Internet entrepreneurs have become highly creative with web forms and autoresponders. Almost anything can be achieved. Some examples of automatic response e-mails include:
Starting e-mail sequences for marketing
Opting in to monthly newsletters
Providing instructions on how to access a secret area of a website
Let's take a look at an example to illustrate a common use for auto responders.
A Simple AutoResponder Example
Here are two screenshots to show how autoresponders could be used if your website contains a web form for a job application. The web form example below shows where a user can provide their contact information and upload a resume or curriculum vitae to the site.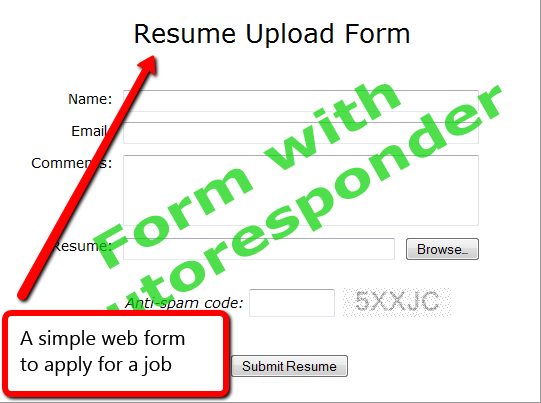 With the web form setup and clearly laid out, the autoresponder can be configured to send a simple "thank you" message to the user.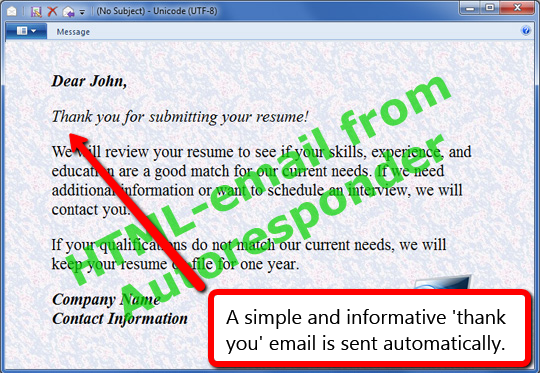 This acknowledges receipt and lets the user know their submission has been successful. Furthermore, they are also told what to expect next. It's a simple system that takes care of the transaction automatically.
How to Make Sure Your Web Forms Are Used Frequently
Whatever type of website you have, a web form that's used by lots of people can benefit you a great deal. This means, it's important that people fill it in instead of clicking away from the page and looking elsewhere. The idea of "leading with value" simply means giving people a good reason to use your web form.
In the above example, those looking for a job will use the web form to make the application. However, if you want to gather e-mails for marketing purposes, it's important you give people a good reason to give you their email address.
This is sometimes referred to as a "perk" which is usually given away for free in return for the email address. Effective methods include:
Detailed, informational or entertaining e-book's
Educational e-mail courses distributed over time
Special offers, discounts e-coupons and vouchers
Competition entries and free prize giveaways
If you successfully build an e-mail list with several hundred or even thousands of people on it, you can grow your business or website more successfully. Going out of your way to create a valuable reason for people to use your web form will always see some great results.
Policy
/
Copyright © 1998-
2023
GO WEB DIRECT GROUP LTD. / SnapHost.com / 100forms.com