What a Web Form is & Why It's Useful to You
For many people, opening a discussion about web terminology is a scary idea. If you're unfamiliar with the term "web form", never fear. It's likely you've used one many times before. Let's start with the basics.
For example, the most common type of web form is probably the "contact" form. If you've ever been to a website and hit the "Contact Us" link, it's likely you've been presented with a series of fields whereby a message can be sent to the website owner. This is the more common option over a traditional e-mail contact method and we'll get into the reasons why in a moment.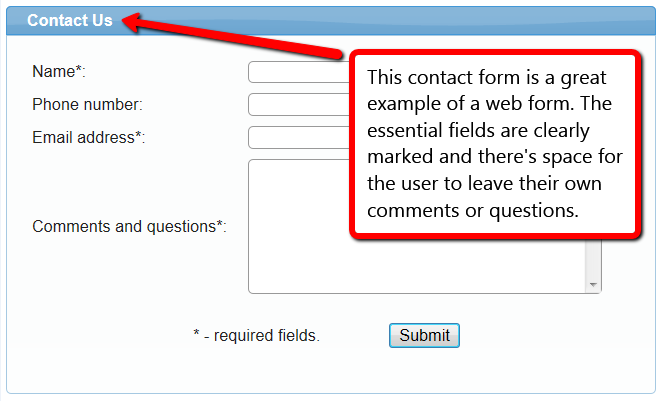 If you imagine any other time you filled in a series of fields like this, whether it's at the checkout in an online purchase, during an online survey or any other method, this is a web form.
Behind-The-Scenes of a Web Form
If the part of the web form where you fill in the fields is at the front of the website, then the HTML code is the part behind the scenes. The browser transforms the HTML code into a visual appearance after receiving it from the server hosting the website.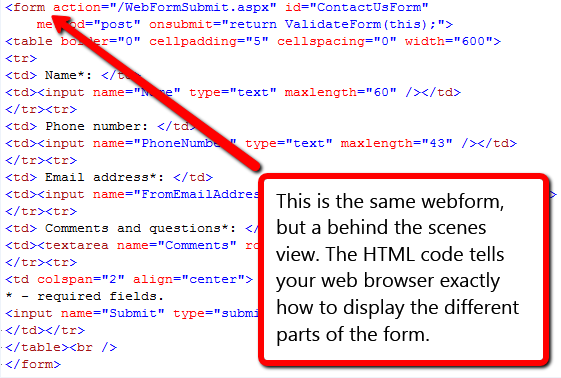 The HTML code provides the browser with info such as what each field is called (such as name, e-mail address, etc) and also information like how big they should be and where the "submit" button goes.
Why is a Web Form Useful to You?
There are many ways you can add features, value and function to a website and few are as versatile as the web form. Sure, you can make a simple contact form, but below are some other key reasons web forms are such a good idea. You can:
Create a layer of anti-spam for people contacting you through your website
Avoid having your e-mail address harvested by malware bots
Integrate market research and user feedback to your site
Build an e-mail list of subscribers and followers
Provide e-commerce opportunities to sell products and services
Track and refine conversion ratios for leads and other metrics
The uses for web forms are limited only by your imagination. Using them effectively is something we cover extensively on this website. We want to make sure the results you get from your own forms are as good as they can be, while making sure the forms are easy to implement.
Getting More from Your Site
It's all about getting more out of your site. If you're a beginner web user, implementing new features can be even scarier than talking about the technical terms. This is why we've made our forms as easy-to-use as they are versatile.
For more info on how web forms can make your website more successful, see the next article here.
Policy
/
Copyright © 1998-
2023
GO WEB DIRECT GROUP LTD. / SnapHost.com / 100forms.com